Win a vintage leather wine journal. Reasons and tips for visiting wineries.
Visit a Winemaker (and win a Piacero Wine Journal) 


If you spend your holidays in a wine region this summer, take a couple of hours to visit one or two wineries. Too few people do I think. And that's a shame; they miss out on a lot.
Here's 5 good reasons:
 
1. You help the winemaker
Exceptions aside, it's usually not the grape grower who takes the largest chunk out of the industry's profits. At best, if you pay $20 for a nice bottle of wine at the store, some $5 ends up in his cash register. As turnover, mind you, not as profit. After paying his own bills (staff, bottle, cork, packaging, machines, etc.) he earns maybe $1 before the tax man comes.
If you buy that same bottle directly at his winery at the same price, he gets to keep the $6 retail margin and $4 freight cost in his own pocket, thus increasing his profits more than tenfold. I assure you, you don't need to be a pro or a buyer; the winemaker is happy to see you coming.
Unfair to the retailer? Perhaps if you buy in large quantities and have it shipped home. Otherwise I'm sure he'll only encourage his clients to engage in wine activities!
2. It's fun! It's educational!


To most of us, one of the main perks of traveling abroad is to meet new people of different cultures. What better way to do that than to talk to local winemakers, many of whom are proudly embedded in the region's ancient traditions. People love to talk about their country, their town and of course their vineyards and their wines. And I'm sure you'll learn something too! Even the most experience pros and buyers learn from visiting wineries. Trust me: you'll pick up some new insights with every visit.

3. You get to taste your wine before you buy it
Well I think I don't need to explain the advantage here …

4. You'll have a story to tell back home
Imagine a dinner with good friends. While opening a bottle of wine you tell them how you met the family who actually grew the grapes. How the vintner welcomed you in his rubber boots, took you into the fields and introduced you to 85 year old grandpa who forgot to put his teeth in that morning. How, using hands and feet, gramps explained that as a young man at 25, he himself had planted the very same vines that he was now trimming. The same vines that bore the grapes of the wine you are serving your friends. A good story is not only entertaining; you may well find out that it makes your wine taste even better ;-)

5. And best of all: You may win a Piacero Vintage Leather Wine Journal!
This one's easy (or you can make it easy) and just as rewarding:



And if you do decide to drive up to one of those charming vineyards, here's ...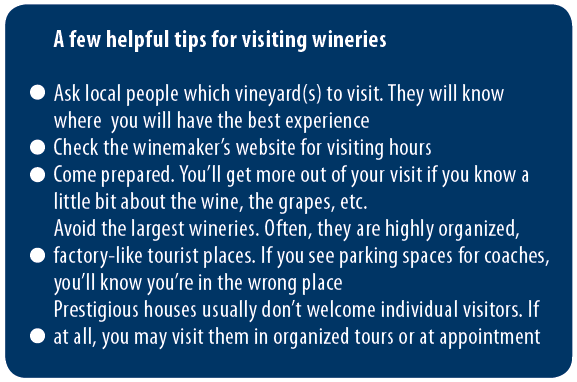 Enjoy and have an excellent summer!
Thanks for reading, hope to see you in my mailbox soon.